Discover Greece by rental car. Drive through the rugged landscape of the mainland or visit islands like Crete and Corfu. The beautiful Greek islands in the clear, blue sea are very popular with beach lovers. If you are interested in culture, then Greece is really the place to be. Behind every mountain lies a myth from ancient history.
By rental car to the Greek beaches
Most travelers describe their vacation in Greece as an interesting beach holiday. Drive around the islands in the Ionean sea, explore Crete or discover the mainland by rental car. That way you can visit all the highlights that your destination has to offer. You can relax on a sunny beach, followed by a cultural excursion to some ancient ruins and then end the day in a sidewalk café enjoying the Greek Mediterranean cuisine and the sunset. A car enables you to discover hidden spots and you can plan your own itinerary to see all the sights. With a rental car you have absolute freedom so you can make the most out of your time in sunny Greece.

Favorite car rental locations in Greece
Made up your mind yet about where to start your vacation in Greece? On the mainland, in the capital of Athens, on Crete or on one of the other islands? The islands form about 20% of the Greek continent and they are popular with beach lovers, but the mainland has many beautiful beaches as well and some very impressive ruins. Make your choice out of more than 40 car rental locations spread throughout the country. Check our car rental offers for popular destinations in Greece.
Athens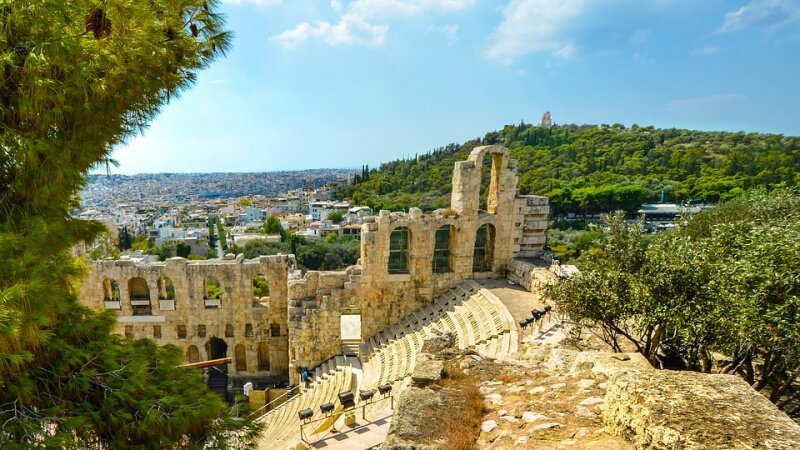 Rent a car and discover the ancient Greek history during a vacation in Athens. The capital of Greece is the largest city in the country. The old center of the city is a pedestrian zone but in the rest of Athens you will enjoy lots of advantages of having a rental car. Visit the National Archaeology Museum by foot and climb the Acropolis hill for a spectacular view of the city. Car rental in Athens gives you the opportunity to explore not only the interesting and beautiful capitol city, but also the surrounding area.
Car rental Athens
Crete

Start your vacation on Crete in Heraklion and tour the entire island by rental car. Visit popular party beaches and other tourist hotspots. When you have a rental car you can also visit the quiet spots on Crete. Enjoy a fresh fish meal and a local glass of wine on a secluded beach. Go for a romantic evening walk on the cliffs along the coast. A rental car makes it possible to make the most out of your vacation on Crete.
Car rental Crete
Is your favorite destination not listed on this page? Check our site for different locations where you can rent a car.
What are the car rental conditions in Greece?
Download the as a PDF file and check the conditions of our a rental contracts.